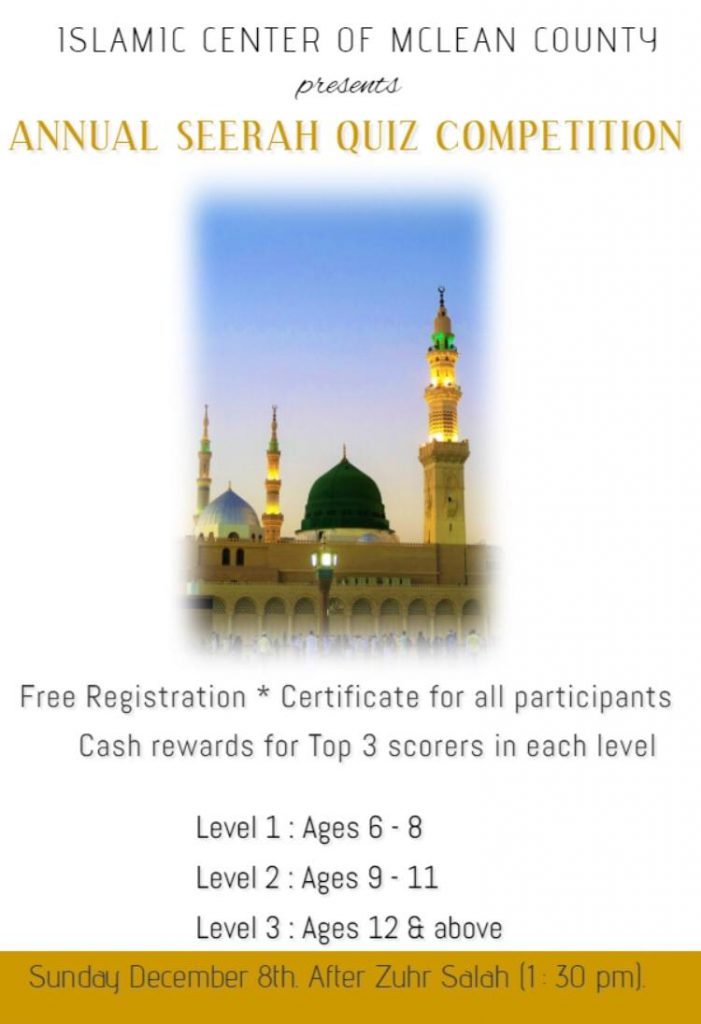 As-Salamu 'Alaykum wa Rahmatullahi wa Barakatuh!
We are excited to present 2019 Annual Seerah Quiz Competition.
* Registration is free and is open to all kids (not just Maktab and Sunday school) until Sunday November 24th.
Click here to Register!
* Ages for Registration.
Age Groups-
6 – 8
9 – 11
12+
* We will send the study materials for those who registered, parents can help their kids to prepare or can send their kids to Maktab classes. Imam Saad will be taking special classes during Maktab class to cover this subject.
* Here are the dates-
* Wed Nov 27 , Thurs Nov 28
* Wed Dec 4 & Thurs Dec 5
* Class starts from 5:45 pm until 7 pm.
* Seerah Quiz Competition will be held on Sunday Dec 8th after Zuhr Salah @ ICMC.
* Results and awards ceremony will be held on Friday December 13th.
* Each Participant will be getting a certificate . First 3 winners in each age category will get Cash prizes.
Sincerely,
ICMC Management